Any targets threatening Russian forces in Syria must be immediately destroyed - Putin
Jihadists in Syria pose a direct threat to Russia, Putin has told a defense meeting in Moscow, adding that any targets threatening the country's military there should be destroyed. Defense Minister Sergey Shoigu said Islamic State's influence in Syria continues to expand.
[CORRECTION: An earlier copy of this story stated that more than 5,000 members of the Free Syrian Army have been operating on the terrorists' side, according to Vladimir Putin. This was reported as per a wire issued by Sputnik, which was later corrected to Putin's actual words, in which he said that over 5,000 members of the Free Syrian Army have been fighting AGAINST the terrorists. We have also corrected our report and apologize for this mistake.]
The Russian military's actions in Syria are being coordinated with Russian special services such as the FSB, who are disclosing terrorist cells, including Islamic State, Putin said.
All forces threatening Russian servicemen in Syria should be destroyed, according to the Russian president.
"Any targets threatening our [military] group or land infrastructure must be immediately destroyed," Putin said, speaking at a Defense Ministry event.
"In general, the actions of the Russian groups deserve high praise. This is a result of work by the Ministry of Defense, General Staff officers, Russian Air Force pilots and the Russian Navy," he added.
Putin also said that at the moment more 5,000 members of the Free Syrian Army are fighting alongside the government's troops against the terrorists.
'ISIS influence expanding in Syria' - Russian Def Min
Russian Defense Minister Sergey Shoigu added that Islamic State (IS, formerly ISIS/ISIL) controls about 70 percent of Syria's territory, adding that in Syria and Iraq there are about 60,000 militants.
"The Islamic State area of influence is expanding," he said, "There is a threat that their actions will be transferred to Central Asia and the Caucasus."
To date the Russian military has carried out about 4,000 sorties, striking around 8,000 terrorist facilities in Syria, he added.
Drones have proved a necessary part of the military operation against the terrorists, according to Shoigu. He said that Moscow has an about 1,720 drones at its disposal.
Both Putin and Shoigu took part in the Defense Ministry board meeting, which apart from the Syrian operation touched upon such issues as nuclear strategy, NATO expansion and Arctic military bases.
"Special attention should be paid to strengthening the combat potential of the strategic nuclear forces and implementing defense space programs," Putin said during the meeting.
Russia needs to "arm all the components of the nuclear triad with new armaments, raise the efficiency of the missile attack warning and aerospace defense systems," the Russian president said.
Shoigu added NATO has significantly expanded in Europe.
The US has sited at least 200 bombs in the Netherlands, Turkey, Belgium, Italy and Germany, according to the defense minister.
Putin: US missile defense aimed at neutralizing Russia nukes, N. Korea & Iran just a cover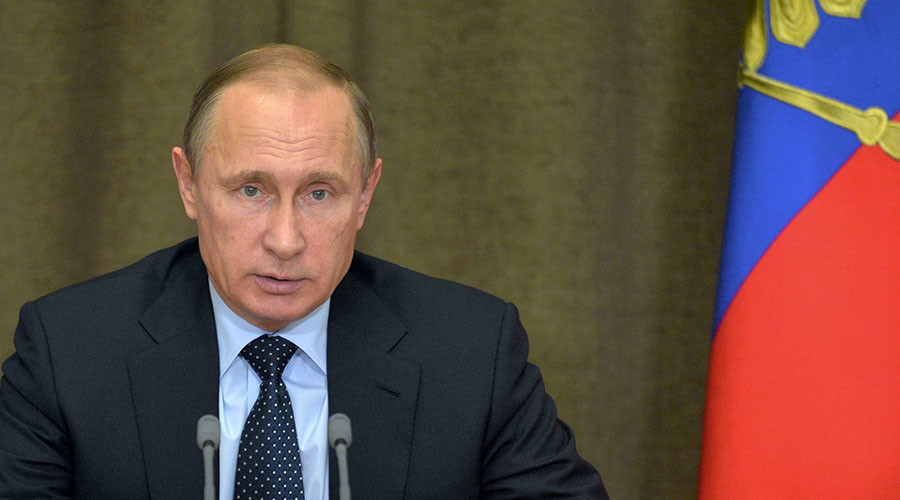 "References to Iran and North Korea nuclear threats are just a cover for the true purpose [of NATO missile defense]. That is to neutralize the potential of other nuclear states not the US or its allies – primarily Russia," Putin said during a meeting in Sochi dedicated to national military development. "The US is attempting to achieve strategic military superiority, with all the consequences that entails."
Vladimir Putin has reminded that Iran reached a landmark nuclear deal with world powers in July. The agreement would remove sanctions that have crippled its economy, in exchange for severe restrictions on Tehran's nuclear program.
Russia has been repeatedly told Iran is the main threat.
"Now, the Iranian problem is off the table – treaties have been signed and ratified. Yet, the work on missile defense continues, as before," Putin said.
The Russian leader promised Russia would take the "necessary measures to respond by strengthening its own missile defense."
"And at the first stage we are also going to develop strike weapons that can penetrate any missile defense shield."
Over the last three years, the Russian defense industry has created and successfully tested a range of promising weapons that can operate against a multilayer missile defense system, the Russian president said.
In June, Putin announced Russia would add 40 new-generation intercontinental ballistic missiles to its nuclear arsenal this year. In briefing to the media after the Sochi meeting, Putin's press secretary, Dmitry Peskov, insisted that Russia's strategic warfare expenditures, would not emulate "the American path of extortionate expense."
Putin said Russia's concerns over US missile defense had been "ignored."
"We have pointed out that these actions [construction of the shield] are an attempt to undermine the nuclear parity principle, and to destabilize the existing world and regional order."
Last month, nine NATO states conducted a joint test of the ship-mounted anti-missile Aegis system in its first ever European exercise, off the coast of Scotland. Days later, the US staged a separate $230-million intercept of dummy nuclear launches near Wake Island in the Pacific.
First developed under Ronald Reagan, plans for a ballistic missile shield were revived by the George W. Bush administration in 2002. But the major rift with Russia began in 2007 when Poland and the Czech Republic agreed to host missile bases on their territory, despite protests from Moscow. The Czechs later withdrew from the US missile defense plans.
Since coming to power in 2008, Barack Obama has modified the plan, increasing its cost efficiency, but not its purpose. When it becomes fully operational – scheduled for early in the next decade – the system will comprise Aegis-equipped ships patrolling from Spain, and rocket equipped silos in Romania and Poland, with Turkey, Germany and other NATO states providing radar capability.
Chomsky: NATO is a U.S.-run intervention force
Sophie Shevardnadze: World-renowned academic Noam Chomsky, Professor Noam Chomsky, welcome to the show, it's a great pleasure to have you with us today. Now, today U.S.-Russia relations are at a Cold War low. Rhetoric resembles what we heard in the 80-s. What is the worst-case scenario we could see this turn into? Can the Cold War turn hot? Does U.S. want war?
Noam Chomsky: The worst-case scenario, of course, would be a nuclear war, which would be terrible. Both states that initiate it will be wiped out by the consequences. That's the worst-case. And it's come ominously close several times in the past, dramatically close. And it could happen again, but not planned, but just by the accidental interactions that take place - that has almost happened. It's worth remembering that just one century ago, the First World War broke out through a series of such accidental interchanges. The First World War was horrifying enough, but the current reenactment of it means the end of the human race.